Sinusitis Overview
Sinusitis is defined as an inflammation of the sinus lining, and is commonly caused by structural issues such as ostial blockage, bacterial infections, viral infections or a combination of these. For many patients, symptoms vary and may include nasal congestion, facial discomfort, nasal discharge, headache and fatigue. Sinusitis is considered acute when symptoms last 4 weeks or less and chronic when it lasts 12 weeks or longer.

Balloon Sinus Dilation is a safe and effective procedure for chronic sinusitis patients who are not responding well to medications and seeking relief from uncomfortable and painful sinusitis symptoms. In Balloon Sinus Dilation ENT surgeons open inflamed sinuses in the same way that cardiologists open up blocked arteries during balloon angioplasty. Mesire Products used the teachings of Mark A Saab in 'Applications of High-Pressure Balloons in the Medical Device Industry' published September 2000 in Medical Device & Diagnostic Industry Magazine. Mesire Products also use the direct illumination and transillumination from placement of light sources in the sinus cavities reported in US Patent 7,520,876.
Balloon Sinus Dilation is less invasive than traditional sinus surgery and effective at relieving symptoms of chronic sinusitis. Balloon Sinus Dilation allows patients to return to normal activities quickly unlike conventional sinus surgery. Sinus Dilation does not include removal of bones or tissue from the nose.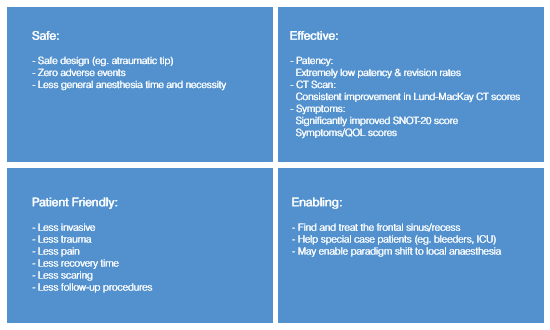 Balloon Sinus Dilation, allows widening of the sinus ostia allowing the return of normal sinus drainage and relief of sinus pressure.
Why Balloon Sinus Dilation?
Balloon Sinus Dilation is an advanced surgical procedure. Balloon sinus dilation uses a precise single use flexible balloon catheter to open inflamed or blocked sinuses. The balloon catheter is placed into the sinus to reach the inflamed or blocked sinus and gently inflated to restructure the previously blocked nasal passage.
Balloon Sinus Dilation preserves normal anatomy of the sinuses and mucosal tissue, and does not require the removal of bone and tissue – this approach helps restore normal sinus functioning. FESS involves removal of bone and tissue and the recurrence rates are high.
In situations where the disease state is minimal and there are no major abnormalities, an extensive FESS procedure may not be necessary. In these cases balloon sinus dilation may be appropriate.


Benefits of Balloon Sinus Dilation Procedure
• Less invasive procedure
• Less blood loss
• Associated with fewer recurrences
• Post operative recovery is faster and patient can resume work quickly
• Safe and effective, minimally invasive procedure for the treatment of chronic sinusitis
Safe & Effective
Minimal invasive – relieves pain and pressure of chronic sinusitis without cutting or removal of natural structures in the nose.
Fast recovery – many people return to normal activities within 24 hours.
Proven
Reliable – 350,000+ have benefited from Balloon Sinus Dilation.
Mandated – Procedure approved by US FDA, European CE mark & India DGHS.
INDICATIONS: Balloon Sinus Dilation System
1. Chronic Rhinosinusits (CRS) Patients with history of persistent rhinosinusitis (all sinuses) lasting greater than 12 weeks, despite medical management of antibiotics, topical steroids and allergic management or patients with persistently abnormal CT after at least 4 weeks of continuous antibiotic treatment.
2. Recurrent Acute Rhinosinusitis An abnormal CT during treatment with post-treatment normalization with 3 or more recurrences per year with each episode lasting less than 2 weeks.
3. Revision Surgery Patients who have undergone FESS previously with persistent symptoms and opacification on CT scan with a narrow Ostia. Balloon Sinus Dilation is a safe and effective tool in difficult revision surgeries with distorted post-operative anatomy.
Mesire Sinus Dilation Products are manufactured by Meril Life Sciences, Pvt. Ltd. Mesire and all related product names are trademarks of Meril Life Sciences Pvt. Ltd. Copyrights © All rights reserved.